Product Details
| | |
| --- | --- |
| Condition:New | Type:Bearings |
| Model:Pack#7565 | Brand:VXB |
| MPN:Pack#7565 | UPC:Does not apply |
Product Description
We have team of certified technicians that follow a strict process when it comes to repairing or remanufacturing a 6300Z Quality Rolling Bearing ID/OD 10mm/35mm/11mm Ball. The team will fully analyze your unit and identify the cause of your problems. The end goal is to provide you with the best, most accurate pump repair as quickly as we can, so you can your operations back online. We provide fast, reliable 6300Z Quality Rolling Bearing ID/OD 10mm/35mm/11mm Ball repair service on all Bearing models. We are committed to using genuine Industrial Bearing Services parts, so you know that you aren't getting gray market or counterfeit parts. Once you work with us, we think that you will keep coming back to us for all of your Bearings needs. Don't see your Bearing model number? Not a problem. Call or send us an email. Chances are we've worked on it before and have parts for it, even if it's not listed on our website. If you don't see your model number listed below, don't hesitate to call or contact us. We service just about every model of 6300Z Quality Rolling Bearing ID/OD 10mm/35mm/11mm Ball that is available from Famous brand bearings and other manufacturers.
Ball Bearing 10x35x11 mm
Double Shielded 6300ZZ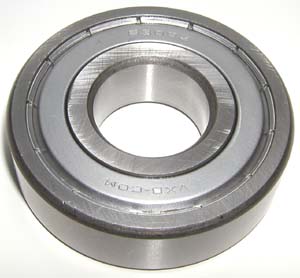 Chrome steel Shielded Ball Bearing 6300ZZ Electric motor quality, Bearings 6300ZZ is a popular item that could be used in many application that uses this size 10x35x11 mm, each 6300ZZ bearings is closed with 2 Metal Shields, one Shield from each side, to protect the bearing from dust or any possible contamination, also 6300ZZ bearings are pre-lubricated with grease, Bearings 6300ZZ has industrial packaging.

Type: 6300ZZ Ball Bearings Item: Double Shielded Ball Bearings 6300ZZ Bearings Quality: Electric motor quality 6300ZZ Size: 10mm x 35mm x 11mm Ball Bearings 6300Z 6300ZZ  inner Diameter (ID): 10mm 6300ZZ outer diameter (OD): 35mm 6300ZZ Width/Height/Bridth (W/H/B): 11mm Type: Deep groove Radial 6300Z ball bearings 6300ZZ Material: Chrome Steel 6300ZZ Cage: Chrome SteelClosures: Double Metal Shields 6300ZLubrication: Self Lubricated (Grease) 6300Z Bearing Quantity: One Bearing 6300ZZ Equivalents: 6300-2ZZ Bearings


Pack#7565

Customers worldwide trust 6300Z Quality Rolling Bearing ID/OD 10mm/35mm/11mm Ball products for exceptional performance, lasting dependability and superior value. But when a repair or rebuild eventually is needed, insisting on genuine Industrial Bearing Services Aftermarket Parts carries many valuable cost advantages. We established the "Keep it REAL" program to deliver all of them automatically when you specify "6300Z Quality Rolling Bearing ID/OD 10mm/35mm/11mm Ball." Locate a Distributor of A Systems Division On Horton Bearing Services you can easily configure the genuine Industrial Bearing Services ... and that with just a few clicks! At the browse vane pumps section you can select a wide range of Industrial Bearing Services to narrow down your selection to 6300Z Quality Rolling Bearing ID/OD 10mm/35mm/11mm Ball that is best suited for your application.
Related News
Prefix Suffix Definition . . ROLLER BRG . . . -JFT REED TORQUE TEST, AVERAGE TORQUE VALUE OF 1000 MG/MM . 2 REED BEARING W/O.D. CODED TO 0.0001 INCH INCREMENTS...
At present, some large-scale open-pit coal mining equipment generally has the characteristics of large production capacity, high automatic function and high investment in single equipment. Therefore, based on these characteristics, if the equipment is...
Lubricating oils for agricultural machinery include engine oils, gear oils and greases. Reasonable use of lubricating oil, providing good lubrication to agricultural machinery, can reduce wear, improve the performance of machinery, reduce the occurrence of...